Art In America - January1999
Janet Sawyer at Blue Mountain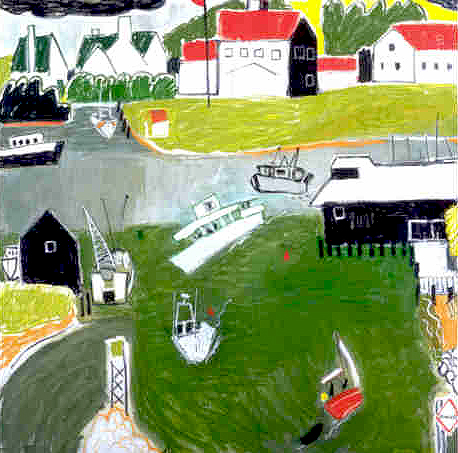 Montauk Harbor oil on linen 64" x 64" ©1996
Since 1995 the New York-based painter Janet sawyer and her husband have lived part of the year in Montauk and on their 24-foot sailboat, traveling along the Long Island sound as far as Block Island and also up the Connecticut River. The artist's feeling for water yielded the seven large oil-on-linen paintings and six small works on paper exhibited in this show, titled "Marines".
Sawyer maintains a distinctive flatness in her simple block like presentation of ships and waterfront structures. The lower half of Montauk Harbor (1996) consists of a dark-green expanse of water broken up by boats that are rendered in minimal terms: a white or red rectangle for a hull, a rough vertical for a mast. The buildings receive a similar treatment; on the left is a black boathouse rendered as a square with a triangular roof and a window simply outlined in white. In the upper half of the painting the water changes from sea green to light grey, enlivened by a black-and-white tug boat on the left and a small boat outlined in black in the middle. Beyond the grey water is a piece of olive-green ground on which are geometric houses painted white and black and sporting red roofs. Everything is given equal weight. In other words, everything in sight is of immediate importance.

Sawyer's affection for the moment is clear in the way she avoids following any obvious historical tradition. The world is taking place all at once in her work, and the spontaneity suggests both physical closeness to the water and the joy that come form intense involvement with ones surroundings. Connecticut River (1997), a bird's eye view of the body of water, has an upraised black bridge in the middle, just above which is a white crossing, presumably a bridge for motorists. Higher in the painting are a sailboat and a couple of buoys, while off to each side are green shores which contrast nicely with the grey-blue river. At the bottom of the image are a pair of lighthouses and two dark boats, which give every impression of movement. Here, as in Sawyer's other paintings, the childlike perspective acts as a metaphor for delight."

- Jonathan Goodman
LEISURE/WEEKEND DESK
ART GUIDE
Published: June 5, 1998
Here is a selective listing by critics of The Times of new or noteworthy art. . . .
JANET SAWYER, Blue Mountain Gallery, 121 Wooster Street, (212) 941-9753, (through June 10). Bird's-eye marine views combining childlike draftsmanship and modernist painterly sophistication. Working on four- or five-foot-square canvases, Ms. Sawyer builds up brushy layers of paint and organizes harbor scenes punctuated by lighthouses, bridges, houses and all sorts of nautical vessels into broad, flat rectilinear compositions. The paintings have a buoyant albeit one-dimensional immediacy (Johnson).
Reviews and Articles
1999 New York Times, Sunday September 12, Westchester Edition.
1999 Art in America, January, review by Jonathan Goodman.
1998 New York Times, June 5, review of solo exhibition by Ken Johnson.
1998 Gallery Guide, Art Now New York, "Downtown" feature page June.
Gallery Guide Online, "Front Page Featured Show"` May issue.
1994 Where Magazine, November, solo exhibition featured.
1994 Voices, Washington, CT., March 2, Urban Landscape, Review.
1993 Where Magazine, November, New York City - Intimate Views, review by Paulette Weiss.
1990 Art In America, July, review of solo exhibition by Lawrence Campbell.
1989 East Hampton Star, April, At the Galleries.
1980 Arts Magazine, February, 121 Wooster Street Galleries, review.
1976 Green Mountain Quarterly, Women in the Arts issue, feature article, by Lee Baxendall.
1974 Art News, April, review of solo exhibition by April Kingsley.
1974 Arts Magazine, April review of solo exhibition by Ellen Lubell.
1973 MS. Magazine, March, Artists in Their Own Image.
1972 New York Times, Feb. 5, review of solo exhibition by David Shirey.
WESTCHESTER WEEKLY DESK
ART; Reviving Painting as a Viable Medium
By D. DOMINICK LOMBARDI
Published: September 12, 1999, Sunday
WHITE PLAINS -- PAINTING, a mainstay of traditional art making, has fallen out of favor many times, especially over the last 30 years or so. Representational painting has had the toughest time, in part because it is not considered progressive enough to keep up with the latest innovations in technology as evidenced by the popularity of video, film or sound installations, machines and robotics, performance art and computer-generated or enhanced images.
In a recent interview with Deborah Rothschild, director of the Williams College Museum of Art, the video-mixed media artist Tony Oursler said, ''For the technological capabilities of our time, painting is outdated as a means of communication and presenting information.'' This simple pronouncement prompted the curator of the Krasdale Gallery, Sigmund Balka, to mount an exhibition, ''Making the Walls Sing,'' at the Krasdale Gallery in the Bronx and here in White Plains.
''Making the Walls Sing'' set out to prove that the subtle, albeit static properties of traditional media like oil, acrylic and tempera paint, when placed in the right hands, could still compete with alternative methods.
* * *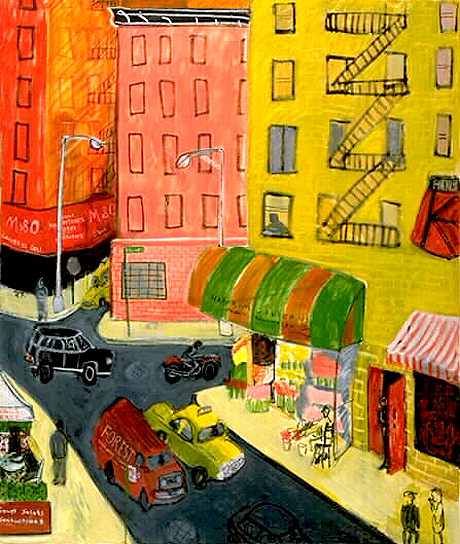 Janet Sawyer's oil on linen, titled ''Prince and Thompson Street'' (1993). Ms. Sawyer's painting depicts an active downtown street corner brimming with life -- a quiet, sensible place where local vendors arrange flowers as taxis calmly pass on the left.
''Making the Walls Sing'' runs through Sept. 24.
Published: 09 - 12 - 1999 , Late Edition - Final , Section 14WC , Column 1 , Page 14