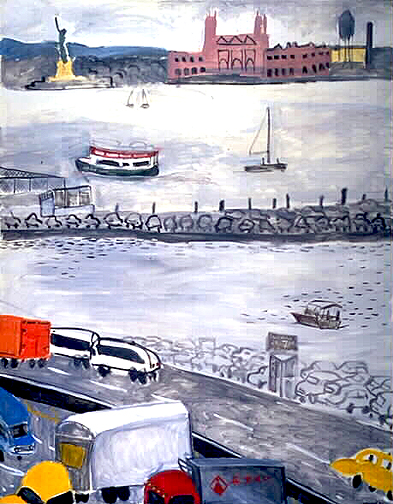 Looking Towards New Jersey, 1989, oil on canvas, 92x72"
In 1990 Janet Sawyer showed large paintings of lower Manhattan's Tribeca neighborhood and views of the waterfront. Lawrence Campbell reviewed the show for Art In America
"Usually one expects view paintings, whether of city or water, to be dominated by the horizontal. Sawyer's are shaped instead like upright posters or windows of traditional proportions. They all show what she can see form her windows looking south across the Hudson River or uptown at the buildings near Chambers street, closer, at buildings she can see across the street. . . .

Sawyer paints with dashing spontaneity and easy informality. The viewer recognizes old acquaintances like the Statue of Liberty, the New Jersey Central Depot and, on the Manhattan side of the Hudson, the tow-away piers with cars packed closely like dates in a box. There are numerous beguiling details. Red calligraphic Chinese writing on the side of a truck, the exact time on a clock on the New Jersey side of the river, a passing Circle Line Passenger boat . . . and street signs directing drivers away from her to someplace else."